COME
EXPLORE
Come explore the heart of the Barataria Basin, where the dark bayou waters hide silent alligators alongside the secrets of notorious pirate Jean Lafitte. Remnants of the past are still present in this historic fishing village and the trails and waterways traversing the area.
Only a short distance from the big city of New Orleans, Jean Lafitte and its bayou culture feels like a world apart. Spend the day here, touring the mysterious swamps, eating some of Louisiana's best seafood and learning about the people and their unique way of life.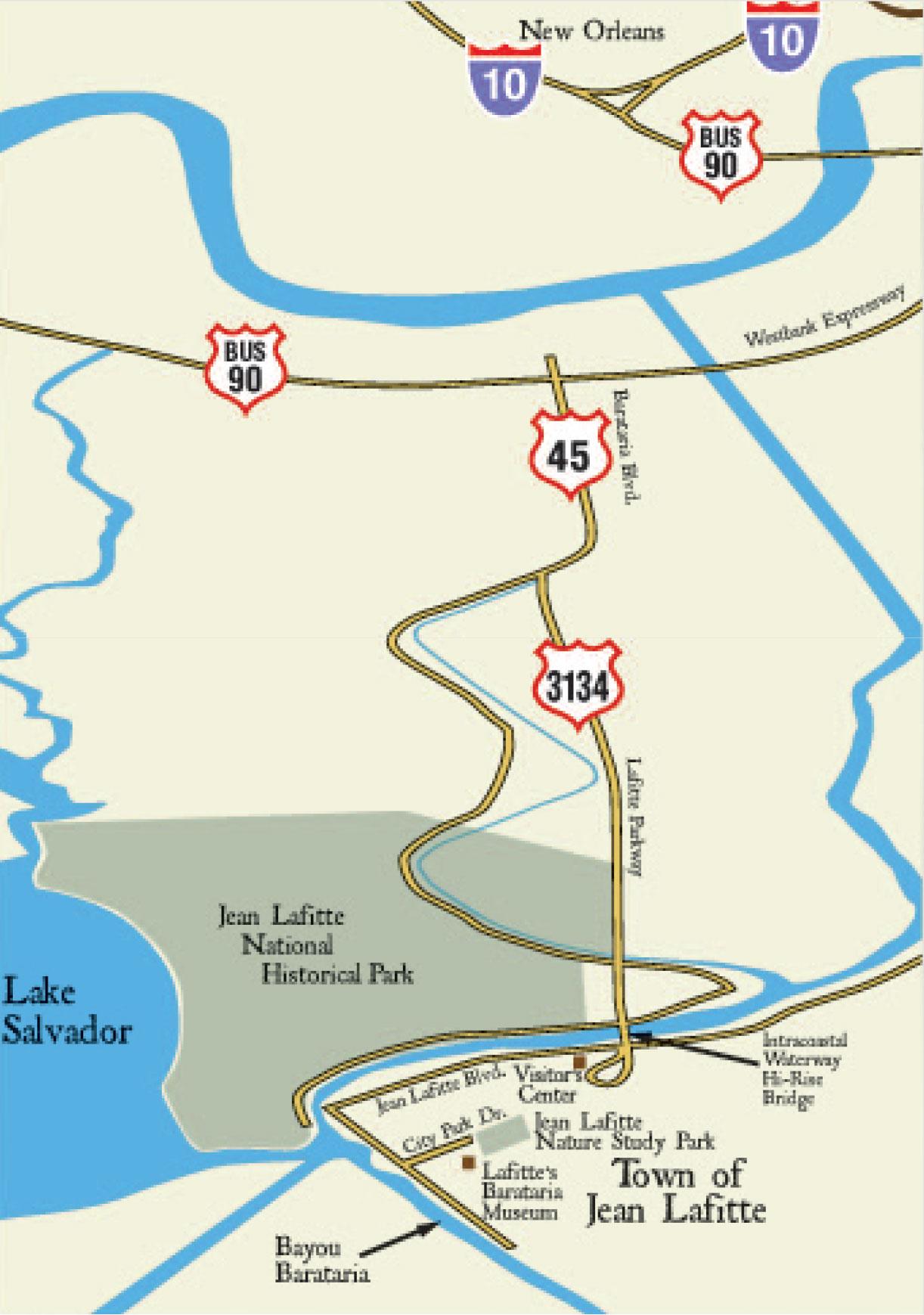 GETTING
HERE
ONLY 30 MINUTES FROM NEW ORLEANS:Take 1-10 to US-90 across the Crescent City Bridge. Stay straight and go onto the Westbank Expy. and travel 4.5 miles.Take the Barataria Blvd.Exit (48). Continue to the second light and turn left on Barataria Blvd.Travel 3.5 miles to Leo Kerner /Lafitte Parkway (Hwy 3134) and turn left.Continue for 8 miles and turn left on LA 45/ Jean Lafitte Blvd.
Country Roads Magazine, Sep. 7, 2019 Since the 1930s, the communities of Bayou Barataria has gathered for the traditional Jean Lafitte Pirogue Races. Last year, after a hiatus, the town of Jean Lafitte re-introduced the beloved bayou celebration of local heritage,...
Lafitte Barataria
MUSEUM
The 6,000-square-foot, Barataria Museum tells the 200-year-old story of the Town of Jean Lafitte, a historic fishing village 20 miles southwest of New Orleans.
06/25/2021 - 06/27/2021 - 12:00 am
The festival will include a line-up of musicians, local seafood and food for sale, carnival rides and an arts walk where artists will display and sell their art. The event space includes the Barataria Museum and the town's Wetland Trace, a boardwalk trail through a 41-acre cypress swamp nature preserve. Swamp Tours will also be offered leaving from the Wetland Trace.
Festival times:
Friday, June 25 – gates open at 5 p.m., entertainment 6 p.m. – 11 p.m.
Saturday, June 26 – gates open at 11 a.m., entertainment Noon -11 p.m.
Sunday, June 27 – gates open at 11 a.m., entertainment Noon – 8 p.m.
Admission prices: Friday: $10, Saturday: $20, Sunday: $20, 3-day wrist band $45